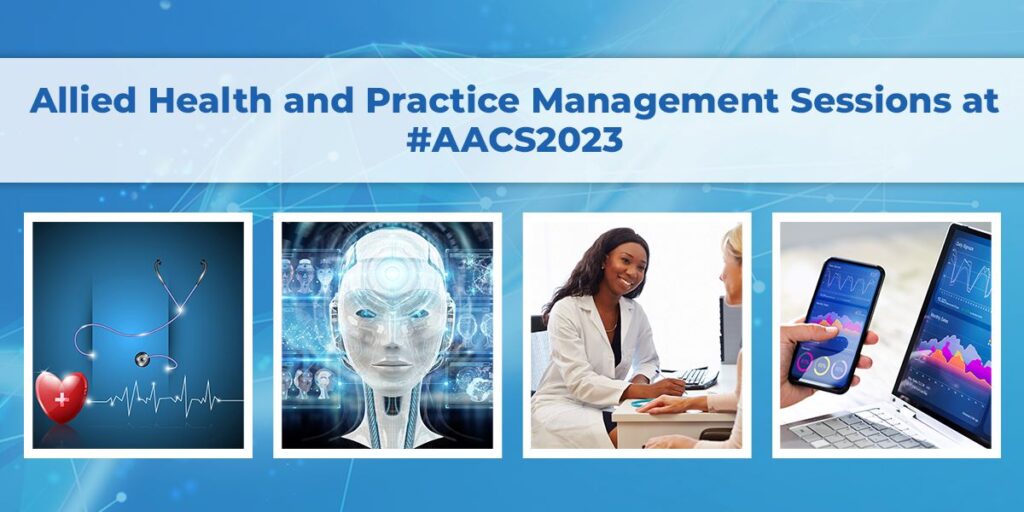 Attend the AACS 2023 Annual Scientific Meeting for a two-day packed program with 9 sessions just for Allied Health and Practice Management! It promises to be a great opportunity to enhance your skills in social media, accreditation as well as soft tissue filler injection techniques.
The program is geared toward cosmetic surgery office and practice management staff as well as mid-level providers. However, physicians would also enjoy and benefit from the Allied Health / Practice Management sessions on topics such as designing an office-based surgery center, managing difficult patients and medical legal issues and the latest great ideas in marketing your practice.
Social media remains a prime topic, and increasing market share will be explored through formal presentations as well as panel discussions.
San Diego is a great place to reward your staff with educational programs and enjoying the attractions including the nearby Gas Light District.
Bonus: Multi-Staff rebate for 3 or more registrations
The AACS is offering a $50 rebate on each registration when you bring 3 or more non-physicians from your practice to the 2023 AACS Annual Scientific Meeting. See rebate form here.
You will gain a wealth of practical information, tips and best practices from these 9 sessions:
Session 4:
-How to Close Your Consults Like a Killer
-The Marketing Ladder: Prioritization in a World of Confusion
-Internet Marketing Budgets: Where You Should Spend Your Money at Each Stage of Your Practice
-Use the Laws of Influence to Convert More Consults
-Is Your Website ADA Compliant? Avoiding the $50k+ Penalties
Session 7:
-Comparison of Opioid-Sparing Post-Operative Pain Management
-Improving Post-Operative Outcomes with MATFAS (Modern Anesthesia Technique for Aesthetic Surgery)
-Importance of Patient Warming in Perioperative Care
-Power of Photo Imaging
-The Importance of Psychological Patient Assessment ( Help Your Doctor!)
Session 10:
-Asset Protection 101 for AACS Members
-The Future of Cosmetic/Plastic Surgery: Consolidation and Success
-Enhancing Profit through Operational Efficiencies
-Re-Evaluate Your Practice by Realizing the World Through the Eyes of Your Patients
Session 12:
-Smarketing = 5 Smart Marketing Strategies to Attract More Cosmetic Patients
-Is Your Receptionist Killing Your Practice
-Your Exit Plan: Planning Ahead for Retirement
-Motivate Staff With Metrics That Matter
-Why Most Marketing Fails
Session 15:
-2022 Internet Marketing Strategies: Learn Google's New Policies and Marketing Tips
-Accreditation and Physical Space Requirements
-Social Media Horror Stories: How to Keep Them from Happening to You
-The Biggest Problem in Marketing Today
-10 Tips To Use Artificial Intelligence, PPC, Facebook, and Instagram Together
Session 20: Inject Like the Pros
Basic Anatomy, Liquid Rhinoplasty
Cheeks and Mid-face
Tear Troughs
Techniques
Hands and Buttocks Augmentation with Fillers Used as Bio-activators
Session 23: 10-Minute Practice Pearls from the Experts
Covering everything from marketing to staff recruitment and retention through social media and websites, our expert panelists will share their secrets to success.
Session 25: Medical Legal Issues
How to Keep Difficulty Patients and Lawyers from Circling Your Practice
Battling the FDA and Winning
Session 28: How Do You Do Social Media?
Best Practices for Social Media
Social Media Success Story
Extended Opportunity for Interactive Q&A Discussion
For full program guide visit this page.