BODY COSMETIC SURGERY CADAVER COURSE

Body Cosmetic Surgery Cadaver Workshop
Wednesday, February 8, 2023, 8:00am-5:00pm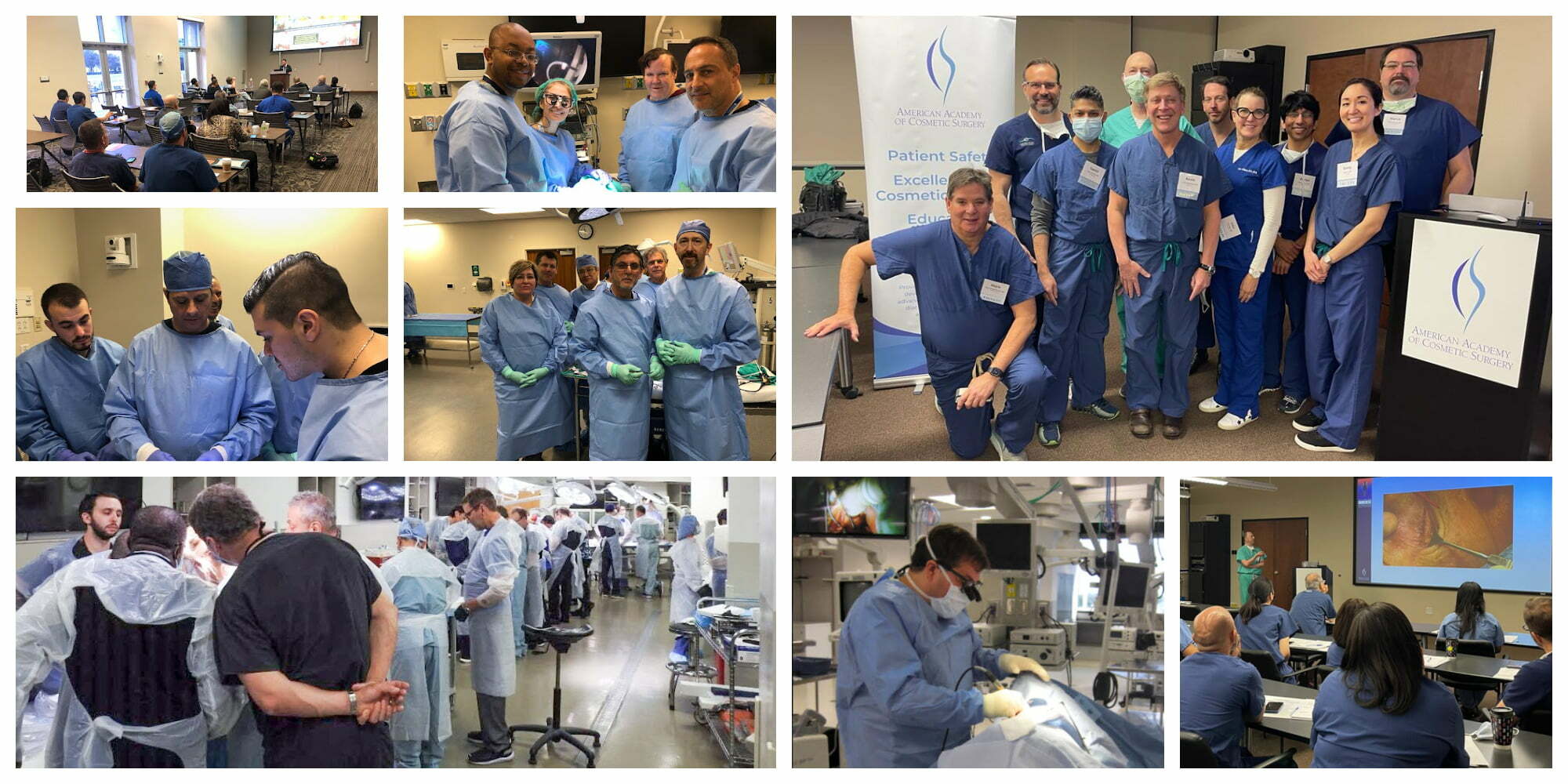 Ticket Price: $3,500 Physician; $2,500 Resident
Location: Offsite at University of California San Diego Center for the Future of Surgery (UCSD CFS)
Includes: Transportation from/to Manchester Grand Hyatt and to/from UCSD CSF, lunch, snacks
There is no better way to enhance your skills in cosmetic surgery than through hands-on practice and one-on-one instruction. Join our expert faculty as they guide you through the latest body cosmetic surgery techniques at our pre-meeting workshop, including a section on Safe Brazilian Butt Lift using ultrasound-assisted technique.
Through lecture and hands-on guidance on fresh cadaver, attendees will learn various surgical techniques. The "how to" will be shown and discussed for various aesthetic goals.
Program Topics
The workshop will be split into two sessions, each with didactic followed by lab time.
Morning:
– Breast Augmentation
– Mastopexy
– Abdominoplasty
– Body Contouring
Afternoon:
– Brazilian Butt Lift with Ultrasound-Assisted Technique
– Gluteal Implantation
The focus of the workshop will be on patient safety with all attendees receiving a special certificate for participating in the BBL safety session.
This workshop will help participants better understand and implement the latest techniques in cosmetic surgery and will also cover the most anticipated complications.
Workshop Directors
J. Kevin Duplechain, MD, FACS, FAACS
Samir Pancholi DO, FAACS
Angel M. Morales Gonzalez, MD
Alton (Tup) Ingram MD, FAACS
Faculty
Ehab Akkary, MD, FAACS, FACS
Angelo Cuzalina, MD, DDS, FAACS
Alexandre DeSouza, MD
Jacob Haiavy, MD, FAACS, FACS
James Koehler, MD, FAACS
Wilbur Hah, MD, FAACS
Pasha Mostofi, MD, DMD
Gabriel Patino, MD, FAACS
Sam Rafailov, DO, FAACS
Cesar Velilla, MD
This body cosmetic surgery cadaver workshop is the perfect way to start off the 2023 AACS Annual Scientific Meeting! Places are limited. Register now to reserve your spot!
We have a few spots available out of 40 seats.
Logistical Details for Registrant Particpants
Click on the button below for a flyer with important logistical information to know before you leave.